At the heart of every home lies a robust roofing system, and Full Spectrum Roofing & Remodeling LLC is committed to ensuring that yours stands the test of time. When it comes to roofing Mooresville, NC services, our expertise shines through not just in our workmanship but also in our choice of premium materials and keen understanding of local aesthetics.
Have you started spotting watermarks on your ceiling? Or do you feel your roof has seen better days? These could be indicators that your home's first line of defense against extreme weather needs attention. Whether it's a minor repair or a complete overhaul, our roof repair Mooresville, NH team is equipped to handle all your residential roofing needs, ensuring safety for your family and longevity for your investment.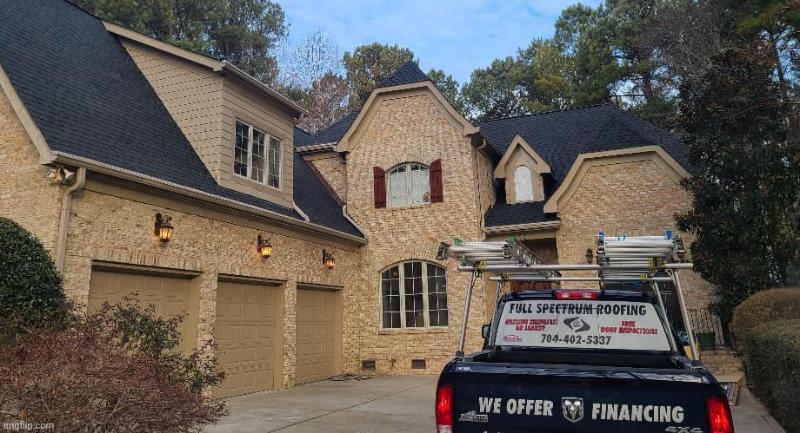 Why Choose Full Spectrum for Residential Roofing?
Versatility: From classic shingles to modern flat roofs, our expertise spans various roofing types to match the tone, look, and style of your property.
Quality: Our commitment to using only premium materials guarantees not just durability but also a reduction in long-term maintenance costs.
Estimates: Transparency is vital. We provide detailed estimates, ensuring you are informed every step of the way.
Insurance: Navigating insurance claims can be daunting. Our team works alongside you, simplifying the process and ensuring you get the coverage you deserve.
Investment Properties: Building or renovating an investment property? We're equipped to work alongside developers, ensuring timely and top-notch roofing solutions.
Family First: We understand the paramount importance of ensuring your family's safety during extreme weather conditions. Our roofs are designed to protect against the worst that nature throws, giving you peace of mind.
When thinking of residential roofing companies Mooresville, NC in your next search, remember that Full Spectrum is not just a service provider but a partner in safeguarding your home. From the early stages of assessment to the final touches, we ensure a streamlined, stress-free process. For roof repairs, replacements, or even just advice, Full Spectrum is here for you.
When you envision top-tier roofing in Mooresville, NC, think Full Spectrum.