Full Spectrum Roofing & Remodeling LLC
Trusted Roofing
Mooresville, NC
Contractors
Full Spectrum Roofing & Remodeling is your local roof experts serving the greater Mooresville, Concord, Rockwell, and Salisbury, NC areas. We provide expert commercial and residential roofing solutions for your property.
Contact Our Team to Get Started
Book Free Evaluation
Premium Roofing Services
At Full Spectrum Roofing & Remodeling, we focus on a holistic approach to roof repair Mooresville, NC, services. Our team carefully assesses your property to ensure a long-term solution, taking into account foot traffic, weather, building style, and the latest materials based on your unique needs. Our local roofing services include: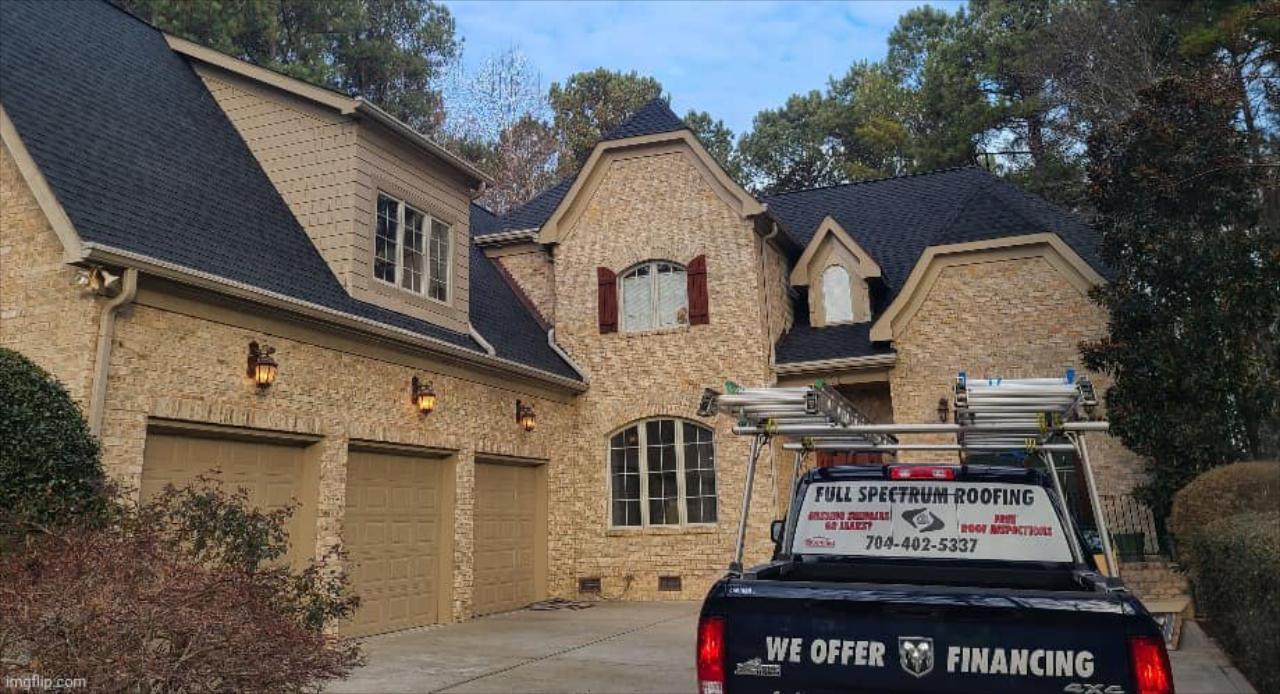 ABOUT US
Choosing to install a new roof is no small decision. It's one of the most significant investments you can make for your home, business, and family. When the stakes are high, you want the best roofing companies Mooresville, NC has to offer. That's where Full Spectrum Roofing steps in.
We are more than just roofers. As a leading roof repair Mooresville, NC team, we are third-generation roofing artisans cherishing the skills and values passed down from father to son. With our deep-rooted commitment to excellence, Full Spectrum Roofing is a trusted name in residential roofing and storm damage repair throughout Mooresville, NC, and beyond.
What sets us apart? Fewer than 2% of roofing contractors nationwide hold the distinguished GAF Master Elite title. This isn't just a badge of honor. We stand out from local roofing companies in Mooresville, NC, because our workmanship is of the highest caliber, backed by shingle manufacturers. Simply put, we guarantee roofs that withstand the test of time and weather.
Are you searching for the best local roofing companies in Mooresville, NC options? Our sterling online reviews are a testament to our dedication. Whether it's a minor roof repair or a complete roof replacement, we guide you through every phase, ensuring a seamless and satisfactory experience.
Our expertise isn't limited to just roofing. We're also adept at handling insurance claims, ensuring all facets are adequately addressed. Consider us as your first responder for roof repair in Mooresville, NC solutions in emergencies. Whether it's immediate tarping or prompt action for any roofing concerns, Full Spectrum has your back. The next time you ponder, "Who's the most efficient for roof replacement in Concord, NC?" let Full Spectrum be your first choice. Trust us, your local roofing experts, to consistently exceed your expectations!

Learn More
WHY CHOOSE US
When it comes to roofing companies Mooresville, NC providers, Full Spectrum stands head and shoulders above the rest. We don't want to swing by a job site and complete a "quick fix" for your roof. Our experts rely on our sterling reputation. As a locally owned team, we offer:
Heritage & Expertise: We're third generation roofing contractors, embedding craftsmanship in every project.
GAF Master Elite: Belonging to the top 2% of roofers nationwide, our workmanship and warranties are unbeatable, including ensuring manufacturing warranties and specialized materials upon request.
Local Know-How: As local Lake Norman roofing companies, we understand the unique needs and challenges of homes in this region – including how to adapt roofs to the style, history, and weather of your location.
Commitment to Excellence: Our reviews echo our dedication. Whether it's a minor repair or a complete roof replacement in Mooresville, NC, we deliver unmatched quality.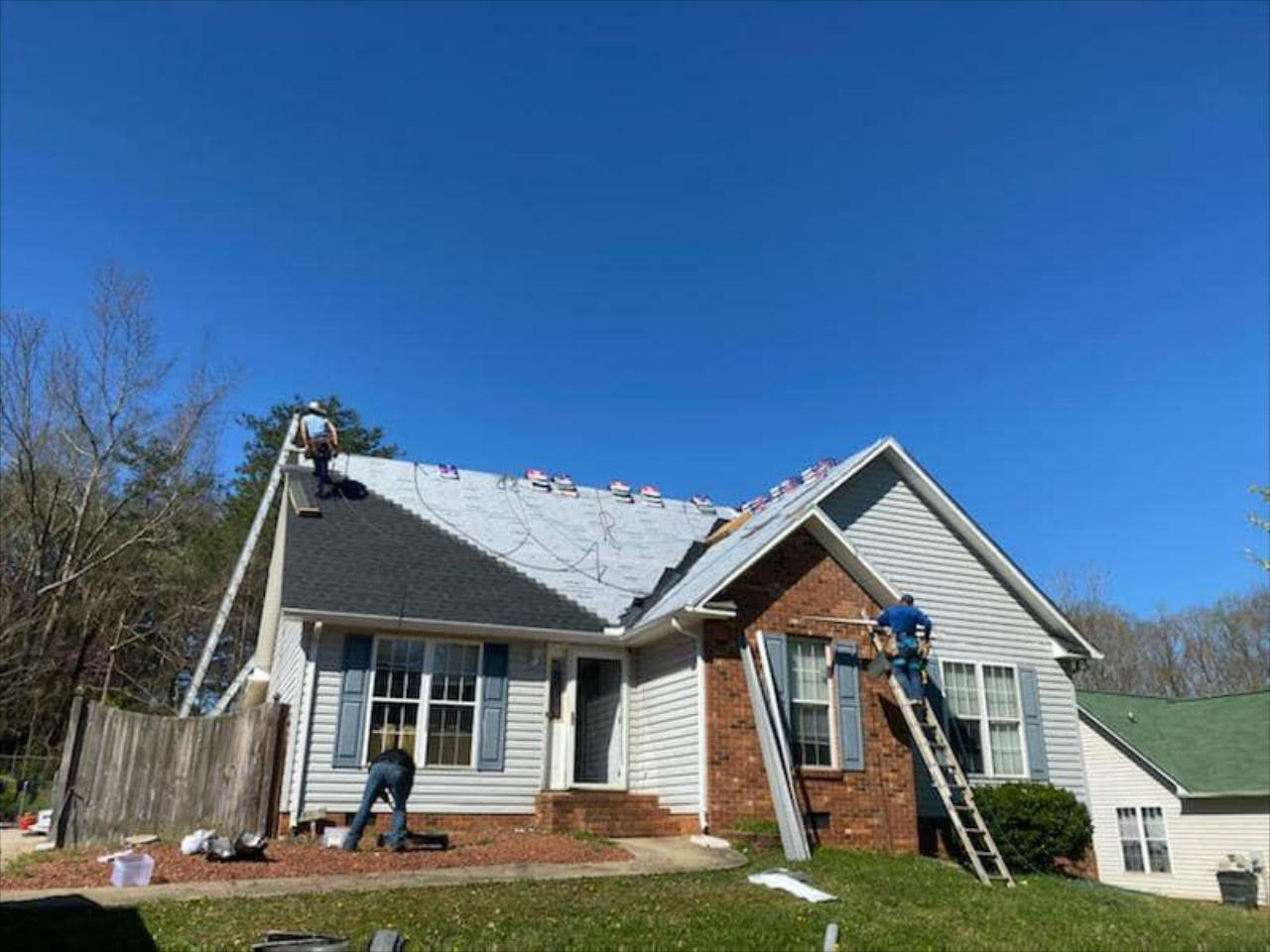 INSURANCE CLAIMS SPECIALISTS
North Carolina storms don't announce their arrivals, but they sure do leave a massive mark. At Full Spectrum Roofing, we make the claims process smooth for you. Leveraging our experience as a premier company for emergency roof repair in Mooresville, NC, we:
Assess the Damage: Our experts will evaluate the extent of the damage to your roof regardless of thunderstorms, hail, or hurricane aftermath.
Guide Through Insurance: Navigate insurance claims easily with our expert guidance and aid. We can speak to your provider and solidify your estimate.
Quick Repairs: Whether it's tarping or more comprehensive roof repairs, we respond rapidly to ensure minimal disruption to your life. The faster we can get to you, the less long-term damage we need to repair.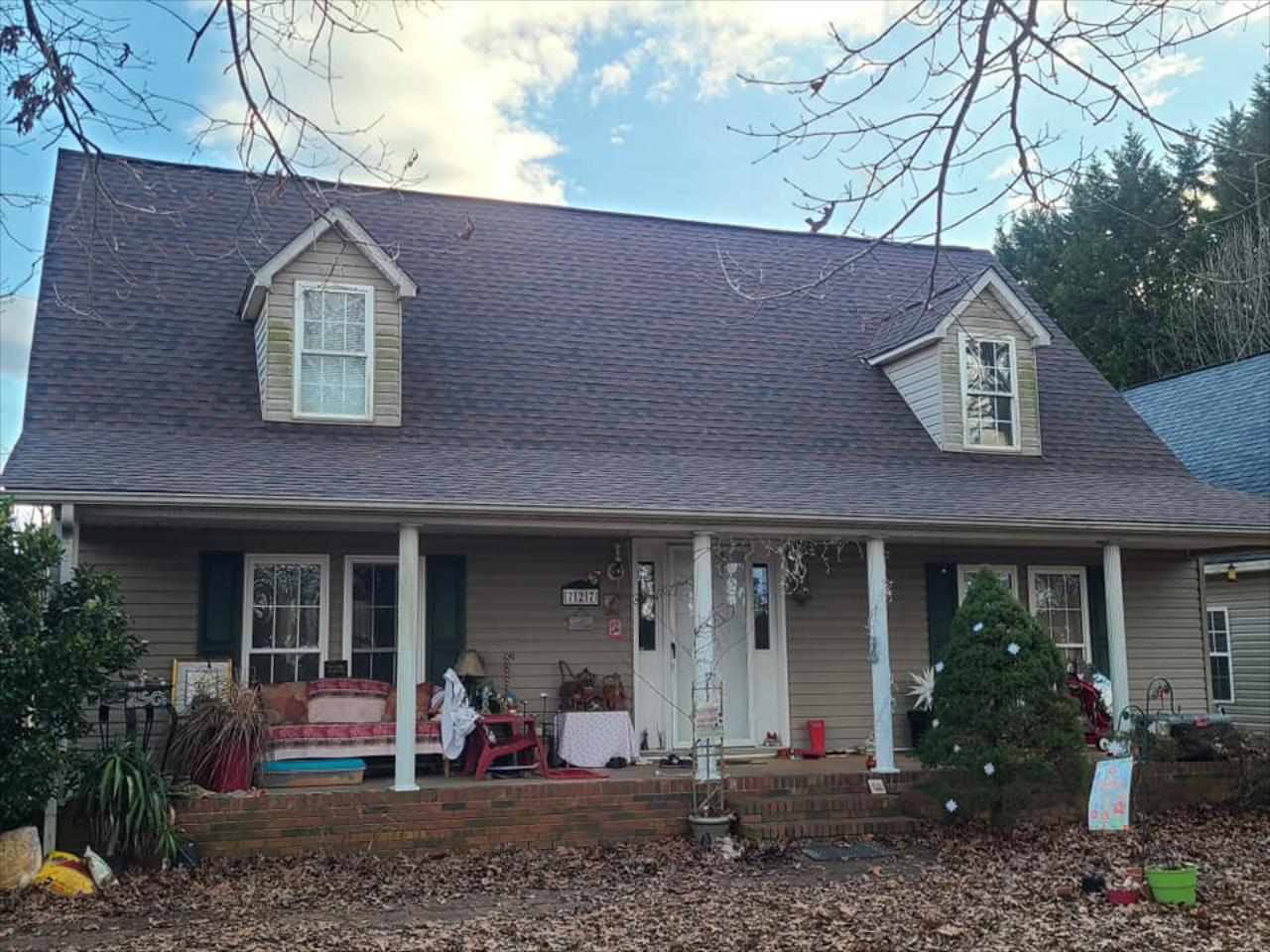 AREAS WE COVER
Full Spectrum Roofing & Remodeling LLC is not confined to one locale. Our local experts cover a wide area and are happy to discuss further travel based on your needs. We primarily specialize in working toward bespoke roofing Mooresville, NC solutions, but we also have clients in Lake Norman, Concord, Rockwell, Salisbury, and more. Schedule an estimate today or contact our team to be sure we cover your area.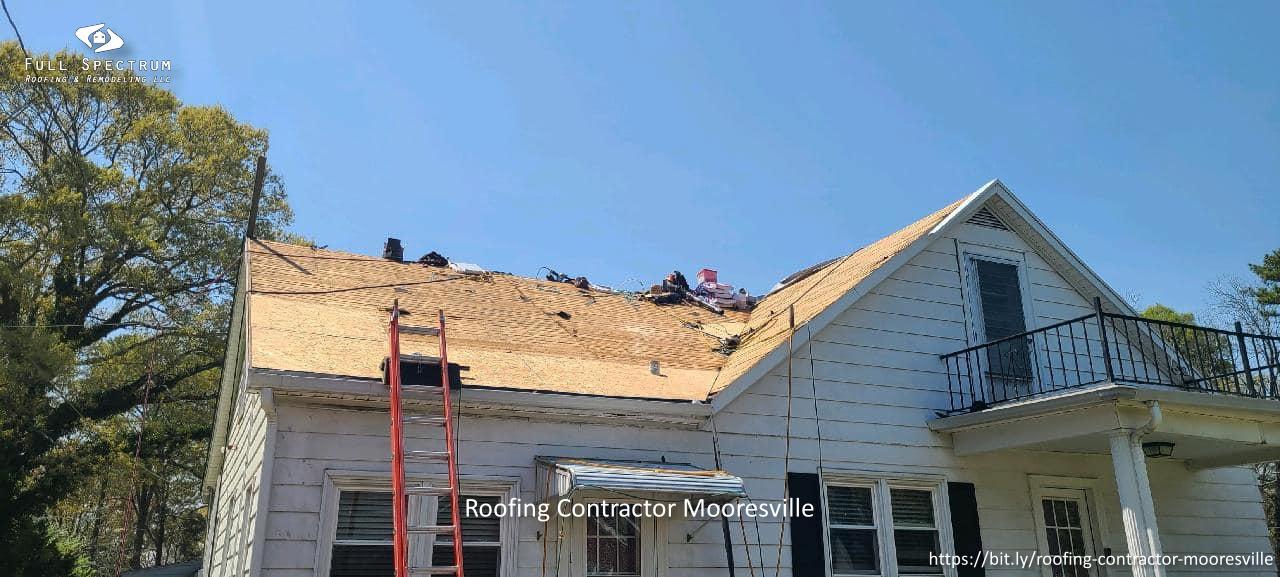 Full Spectrum Roofing & Remodeling LLC
Professional and experienced roofing repairs and installation
Frequently Asked Questions About Full Spectrum
What areas do you serve?
We're proud to offer top-tier roof repair Mooresville, NC solutions to the surrounding regions, including Concord NC, Rockwell NC, and Salisbury NC.
Are you experienced with storm damage repair?
Absolutely! We have experienced roofer in Mooresville, NC experts trained with the latest equipment and building materials to address and rectify damages swiftly and efficiently.
How do I know I'm choosing a trustworthy roofer in Mooresville, NC?
With Full Spectrum Roofing & Remodeling LLC, you're not only choosing a reputable local roofing company in Mooresville, NC, but also partnering with GAF Master Elite professionals, a title achieved by less than 2% of roofers nationwide.
I've noticed some damage after a recent storm. How quickly can you assess it?
As specialists in roof repair Mooresville, NC, services, especially for storm damages, we aim to respond as swiftly as possible. Once you place a call, we can usually get to your property within 24-48 hours.
What kind of warranty do you offer on your roofing services?
Our status as a GAF Master Elite contractor ensures that our workmanship and warranties stand out. The shingle manufacturer backs our projects, guaranteeing that your roof will endure various weather conditions.
Do you work with commercial properties as well?
Yes, we do! Whether it's residential or commercial roofing, our team in Mooresville, NC is equipped to handle projects of all scales and complexities.
I'm considering a total roof replacement. How do I know if it's the right time?
Our expert team can provide a comprehensive assessment. Often, frequent repairs, the age of the roof, or extensive storm damage are indicators that it's time for a full roof replacement.
Get Started Today!
Our team is big enough to meet your need while delivering personal, tailored solutions. Contact us now!